Alpenstock is a device used to assist a mountaineering athlete. The trekking poles allow outdoor mountaineering to pass through the relaxed life, improving the stability of walking and reducing the burden on the legs. According to the study, the use of trekking poles during walking can reduce the strength of at least 22% of the muscles and joints such as the legs and knees, making the legs feel more comfortable while using two trekking poles can provide better balance.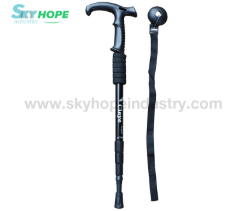 When the trunk is not found, it can also be used as a strut for tarpaulins.
At the same time, Aluminum Poles can be offered for you, please inform us info@skyhopeindustry.com.